Like everyone, we also heard a lot about the kingdom of Bhutan and its perpetually happy residents. And the term "Gross National Happiness Index". A perfect opportunity to experience it first-hand came up in the month of October 2019. Bhutan has beautiful roads (our research) and the entry formalities are comparatively less time consuming, hence we decided to take our car and drive around Bhutan. Hence started our road-trip to the place called 'Happiness'.
ROUTE
Our road-trip to Bhutan was a circuitous route covering the eastern Indian states of West Bengal, Bihar and Jharkhand, ultimately entering Bhutan through the border town of Phuntsholing. Covering about 1800 kms in 7 days, driving our own car (a Skoda Octavia), we experienced polluted environs of Kolkata, the peace and tranquility of rural Bihar & Jharkhand, the dirty border town of Jaigaon and the pristine and unpolluted beauty of Bhutan.
The route below:
We commenced our journey from Kolkata on a sunny October morning. Being quite early , the city was mostly asleep and we made good time till we reached Barasat/Haringhata area. The roads there were pot-holed, two-wheelers and three-wheelers moving every which way and people playing obstacle races with moving traffic.
The Phulia Expressway from Ranaghat, at least, regularised the traffic movement but even there at places, the dual carriage-way narrows down to a single carriage-way resulting in bottle-necks. The expressway joins NH 34 after Phulia More and the road condition improves marginally. From Dhubulia, the toll road starts, a dual carriage-way, well maintained and well signposted stretch where traffic was sparse. NH 34 bypasses the town of Krishnanagar, and with wide, smooth roads we had time to enjoy the beauty of rural Bengal – emerald green paddy fields interspersed with isolated houses. A minor hitch was the town of Beldanga where a weekly market on the highway itself created a long traffic snarl.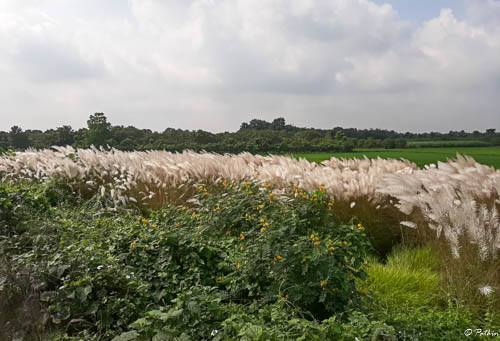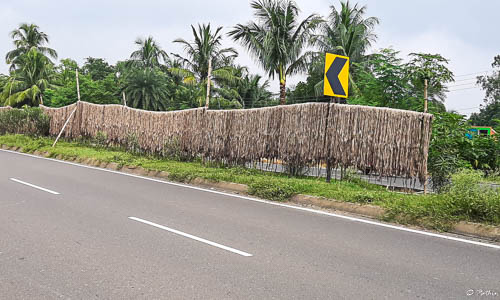 But like all good things the smooth ride also came to an end. The toll-road ends before Berhampore and we got the first of our nasty surprises – the highway passes right through the town and at places it is more pot-holed than metalled. Traffic load far exceeds the carrying capacity of the roads so everywhere there were blockages and diversions. Unfortunately, our navigational guru "Google Map" failed to provide information about traffic conditions and diversions and we had to literally wade through traffic muck for an hour and a half before we could leave the town behind.
Next up was the Farakka Barrage – the roughly 2.2 km long road over the barrage has started showing its age and patchy maintenance efforts. The river Ganga however, was mighty impressive, with raging turbid water.
Crossing Farakka, we approached Malda town around lunch-time. Though Bengal and Bengalis are known for the love of their food, to our surprise there were not many highway eateries along this route and those that were available, did not inspire much confidence, given the condition of their hygiene. Malda was our second nasty surprise! Malda By-pass road, touted by Google Map as panacea of all ills (traffic jams) turned out to be a dud – the road was under construction and we had to turn back after a bone-jarring 3 kms' drive. So much for following a machine!
Thankfully, the route within Malda was relatively free of obstruction and we left the town within a respectable 90 mins.
But our good fortune came to a screeching halt against consecutive nightmares named Raiganj, Dalkhola, Islampur – three bottlenecks that inspire terror to drivers on this route. We crawled through gigantic trailer trucks at an astounding speed of 10 metres per 30 mins.
At long last we reached Siliguri at around 11 PM, tired and irritable but relieved that the worst is behind us.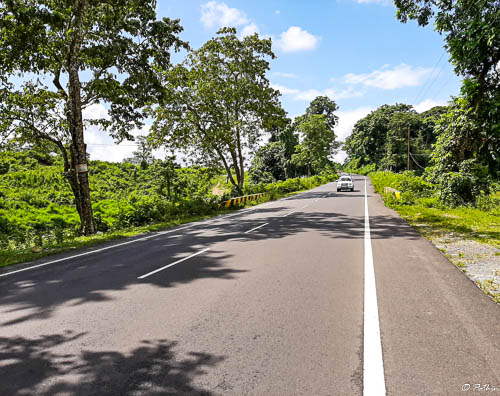 The road from Siliguri was sheer pleasure after the trials of the previous day. From Coronation Bridge over Teesta we took a right and continued on towards Dooars. Passed through quaintly named towns liked Oodlabari, Damdim, Malbazar, Chalsa, Binnaguri, Birpara, Madarihat, Hasimara and finally to the border town of Jaigaon. A no. of tea gardens dotted this road as also famous national parks like Jaldapara, Chapramara, Gorumara etc.
Jaigaon is a sizable town with a thriving market, medium range accommodation options and confusing traffic. We were surprised to note that entry and exit of commercial vehicles to and from Bhutan was almost unrestricted, there is no border point checks and no halts for any of the vehicles.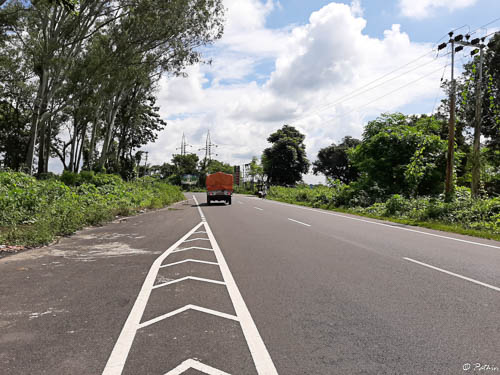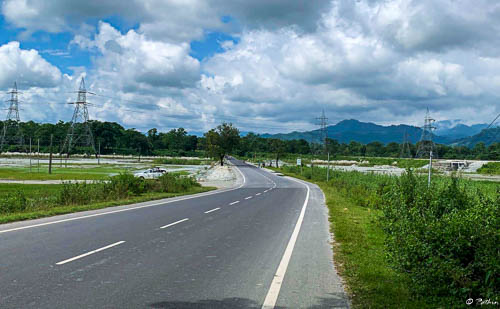 It took us a little over 4 hours to reach Phuentsholing from Siliguri.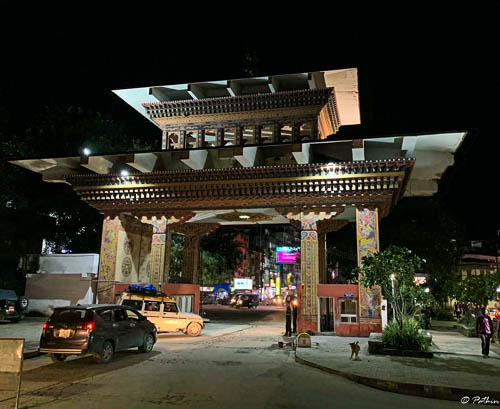 Phuentsholing town situated in southern Bhutan is the main overland entry to Bhutan for both tourists and vehicles. Adjoining Jaigaon in West Bengal, it is far removed from the noise, crowd and confusion of it. Within a 100 metres, we passed from the loud and bustling town to serenity and silence. In Bhutan, honking is prohibited, so the sudden silence is actually unnerving for the first few minutes.
The immigration formalities are done at the Bhutan Immigration Centre which is located just about 30 metres from the gate. Tourists from India, Bangladesh and Maldives do not need visa to enter Bhutan but have to show proof of identity such as a passport or voter ID card and apply for a permit at Phuntsholing to enter Bhutan. The entry permit is only for the Thimphu and Paro, for anywhere else additional formalities need to be completed at Thimphu.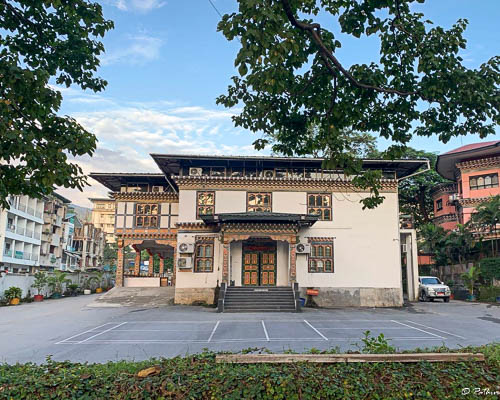 The immigration office is open on weekdays from 0900 to 1700 Bhutanese time (30 mins ahead of India). It is closed on weekends (both Saturday & Sunday) and on Bhutanese holidays. The processing of permits is well organized and takes about 30-45 mins if you have your documents ready. A no. of Bhutanese officials are available to help with your questions in case you have any. You can easily spot them since they all wear their national dress of kho. Almost all of them are warm, smiling and speak excellent English and Hindi.
In the first floor of the immigration office there is a separate counter selling Bhutanese SIM card. A no. of plans are available, its worthwhile to buy one as international roaming connection is patchy at places.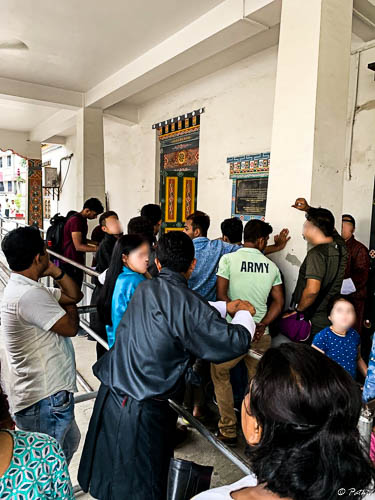 For our vehicle permit, we had to visit RSTA (Road Safety and Transport Authority) office located in the main bus stand of Phuentsholing. A vehicle permit can be applied for only after an entry permit is issued. Copies of valid RC, insurance, pollution certificate and a driving license are mandatory requirements. The office is open from 0900 to 1500 Bhutanese time and is closed on weekends and holidays. The fee is 100 ngu per day and the formalities can take upto 30 mins.
Though Phuentsholing is known more as a border town, its Bhutanese character is exemplified by its clean streets, well ordered traffic, a no. of shops selling Bhutanese handicrafts and the people going about in kho and kira (Bhutanese ladies dress).
The Zangto Pelri Lhakhang (monastery) in the middle of the town is a great example of Bhutanese architecture.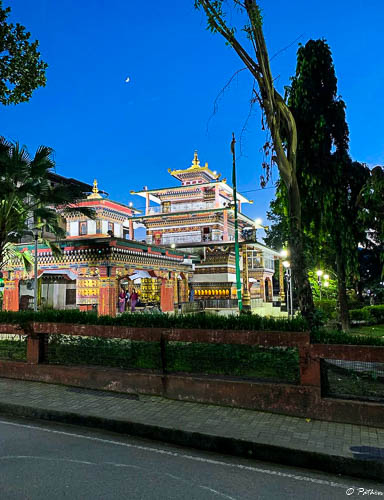 Druk Hotel, just adjacent to the Immigration Office is a favourite of tourists for a night stay. There are cafes and restaurants in town that serve wholesome food, however fine dining or fancy cuisine is not available.
On our third day, we started at around 1000 Bhutanese time (0930 IST). We planned to cover about 145 kms to Paro via the Phuentsholing-Thimpu highway. The navigation inside any Bhutanese town is rather tricky since they have mostly one – way traffic movements. Rules are strictly enforced and the policemen will have no compunction to take you to task for any infraction. Flattery and/or bribery do not work in Bhutan! And Google Maps too – be prepared with an offline version of Bhutan map. Traffic information is not available and navigation may not be fully correct.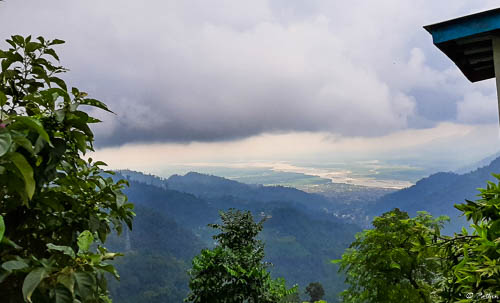 The first check-post is just a few kms outside of Phuentsholing town. We did not see any signage for it, so be alert that you do not miss it. Failing to get your permit stamped at any check-post lead to hassles since they will insist that you return to the previous one and get the stamping done. And remember, a rule is a rule in Bhutan, there is no getting around it.
The drive from Phuentsholing to Paro/Thimphu passes through the scenic towns of Gedu, Chhukha, Bunakha till it reaches Chhuzom. The last named place is actually the confluence of Paro river and Wang (Thimphu) river and here the highway veers off left to Paro whereas the other branch continues on to Thimphu.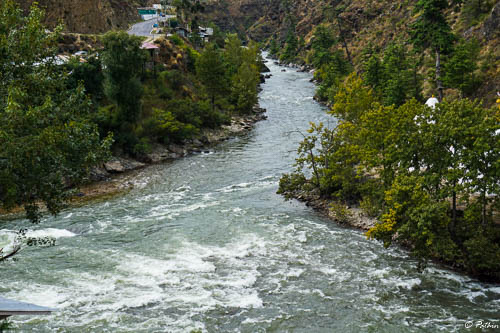 The road from Phuentsholing to Chhukha has a no. of curves and switchbacks and the signages are scarce.
Then, there are places around Gedu where the road is permanently blanketed by heavy fog.
We were caught in a downpour during crossing one such foggy area and the experience was not nice.
In Bhutan, drivers are discouraged to use horns, so driving in foggy & rainy conditions over hilly terrain with little to no signages is tricky. However, conditions improve significantly after Chhukha – the road is well sign-posted and wider, and no foggy stretches.
There is a checkpost at Chhukha – easily identifiable by a police personnel standing in the middle of the road directing traffic to halt and complete formalities.
The Thimphu highway is a delightful drive, smooth road meandering through green hills. Traffic was sparse and all drivers, irrespective of nationalities, follow traffic rules.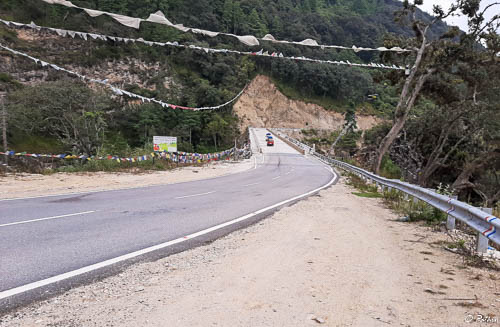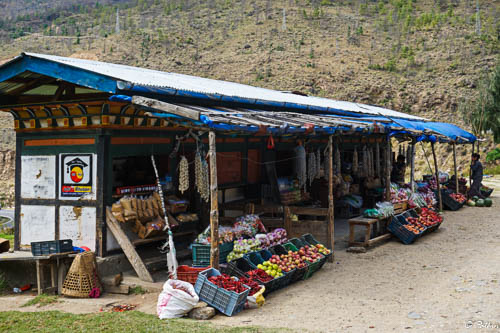 Paro town is situated in the eponymous named valley that extends from Chhuzom to the Tibetan border. With an elevation of around 2200 m, the valley is drained by the Paro river and is heavily cultivated. The Bhutanese staple of red rice is mostly grown in Paro valley.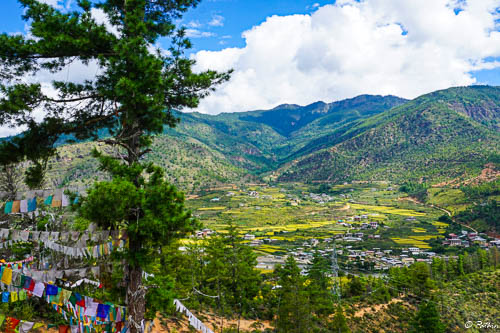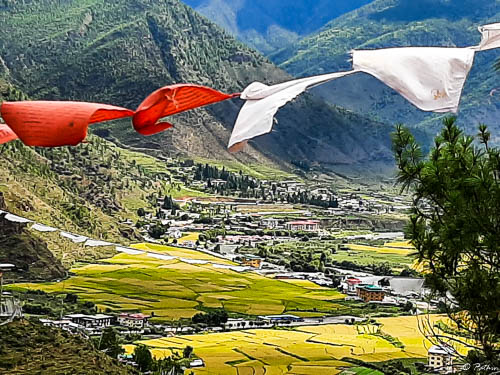 Building regulations are strict in Bhutan and all constructions need to follow a particular architectural style to preserve the Bhutanese tradition and present an uniform style.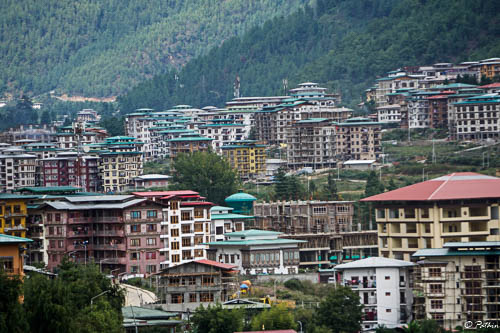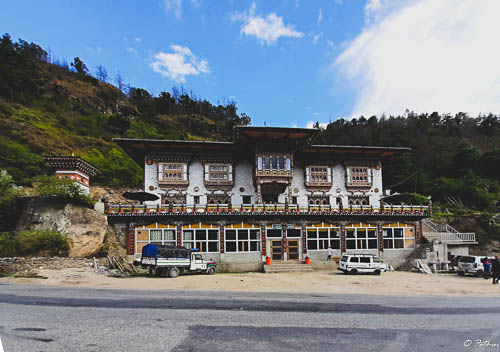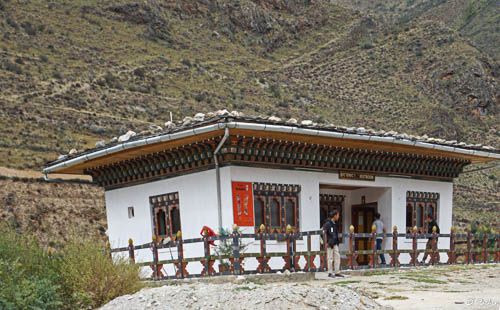 We covered the distance between Phuentsholing and Paro in roughly 6 hours. Paro town is laid out in a grid pattern with one main road and the hotels are off the main road. Some smaller hotels may have problem with accessibility as a no. of lanes are not properly metalled. Many options for eating available, besides almost all hotels have in-house restaurants. The cuisine tends to be an amalgamation of Chinese, Indian and Bhutanese – none of them authentic but an interpretation of the chef of the respective restaurants.
We came across a no. of Indian tourists looking for momos in Paro. Momo is not easily available in Paro, it's more easily available in Thimphu.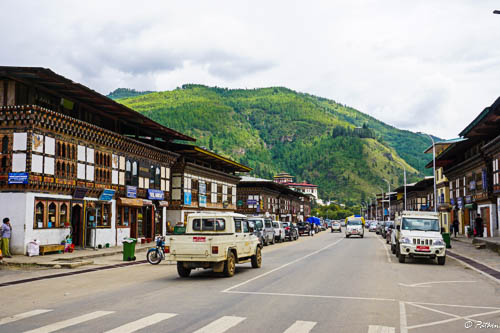 The day after was given over to seeing the sights around Paro. Rather than taxing our navigational skills, we decided to hire a local taxi for half a day to visit the places that were of interest to us. Taxis are easily available and with a bit of negotiation is the best way to see the sights. The taxi drivers in Bhutan were pretty knowledgeable about their country and traditions and were happy to answer our questions.
Our first stop was the Chele Le (Pass). Located at a height of 3810 m, it is highest navigable pass in Bhutan and separates the Pario valley from Haa valley. From Paro town, it takes about 2 hours to cover the distance of 36 kms. It's a popular biking route.
The road to the pass meanders through dense oak, cypress and pine forests. With every turn a new vista opens up, each more beautiful than the next.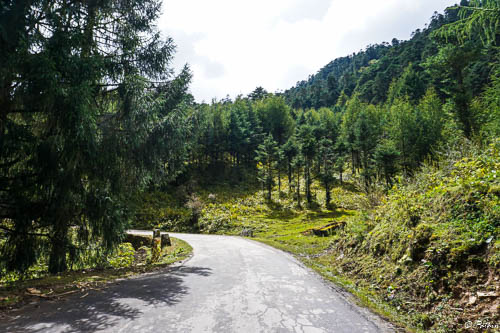 The view of Paro valley from the road is gorgeous – the contrast between the emerald green valley and the distant bluish hills appears as perfectly executed painting.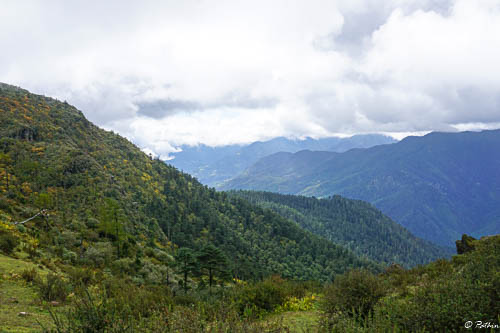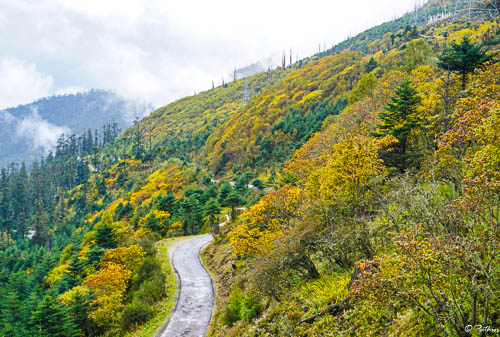 Since October is autumn season in the hills, the vegetation was turning colors nsd the hills were draped in shades of green, russet and gold.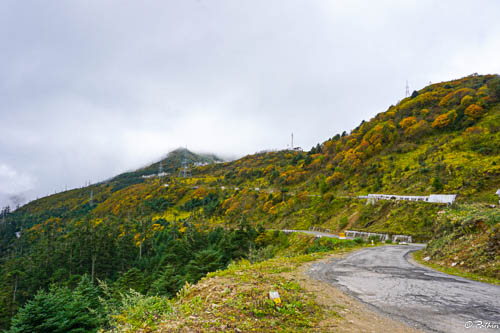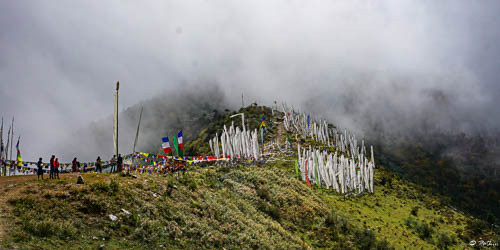 We were told that both Jomolhari and Jichu Drake are visible from the pass, but it was too foggy & cloudy to see anything. The actual pass is a small area and is quite cold. Its snow bound in winter. The last 10 kms of the road is not very smooth.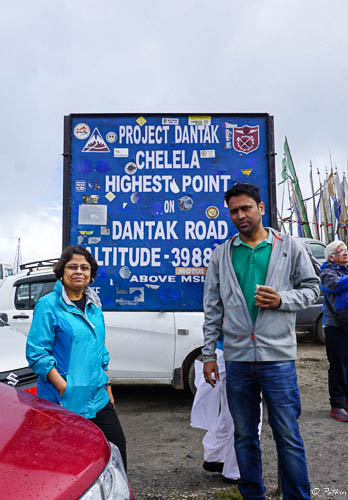 After spending close to 30 mins at the pass, we returned to the town. On our way back, we stopped at Rimpung Dzong or Paro Monastery – which houses the Paro district government offices and the local courts.
Below the dzong, a traditional covered wooden bridge spans the Paro river. Probably due to its isolated beauty, this place appeared to be a hot favourite for selfies.
We covered the distance of roughly 50 kms between Paro and Thimphu in little over an hour. The road was smooth and wide, well sign-posted and very little traffic.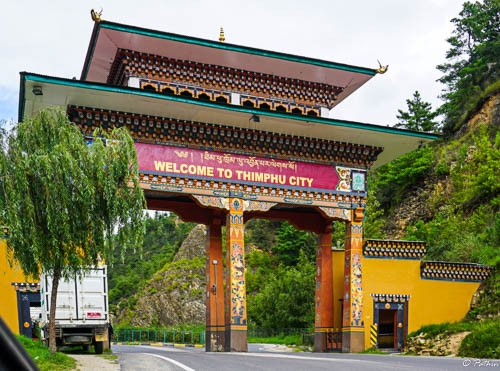 Not only is Thimphu the capital of Bhutan, but it is also the largest city in the kingdom and houses the foreign embassies, the National Assembly, the Royal University of Bhutan, a no. of museums and the sprawling National Referral Hospital.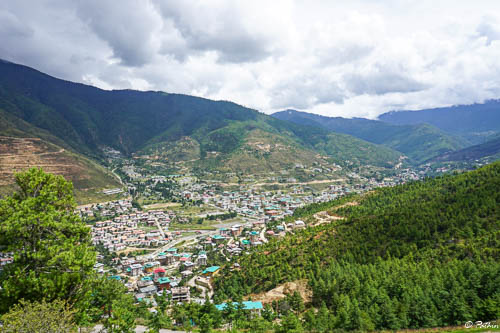 The Wang Chhu flows through the city and still remains its pristine self – a testament to the success of nature conservation that is strictly implemented across the entire country.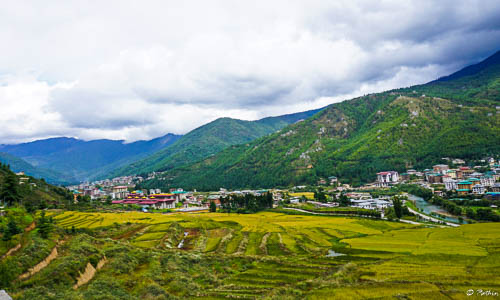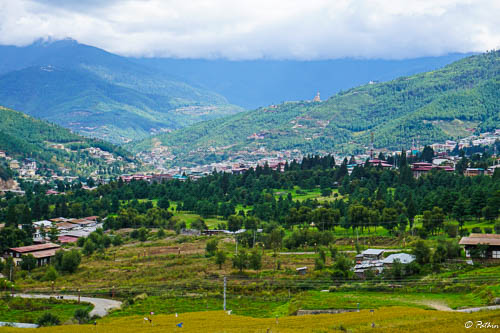 The heart of the city is the clock tower – a place full of restaurants and shops. It has a open air amphitheatre which hosts cultural programs.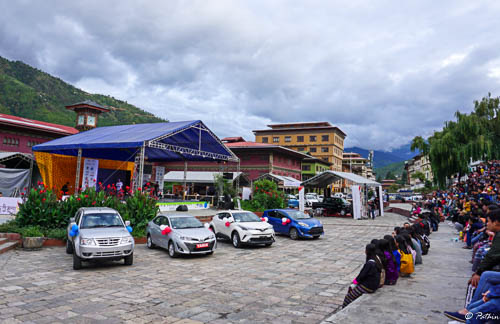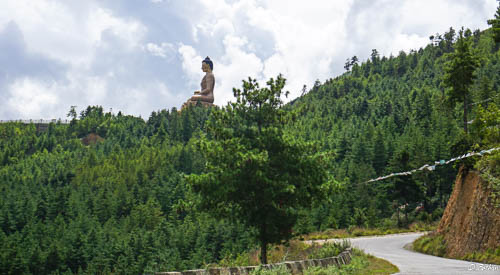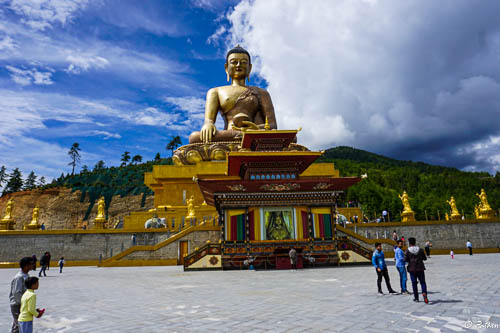 The Buddha Dordenma is a gigantic Shakyamuni Buddha statue looking over the city of Thimphu . It was consecrated in 2015 to celebrate the 60th birth anniversary of the fourth king Jigme Singye Wangchuck.[1]
With a total height of 54 m, this statue is the largest Buddha status in the world. It is made of bronze and gilded giving an impressive glimmering appearance.
On the grounds, there are numerous statues of Shakyamunis.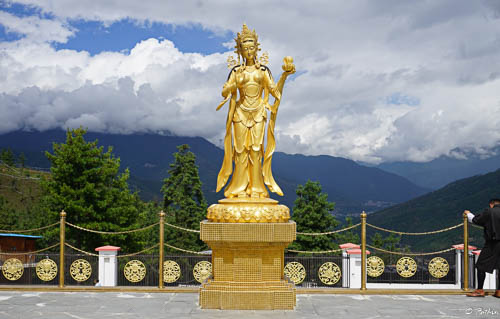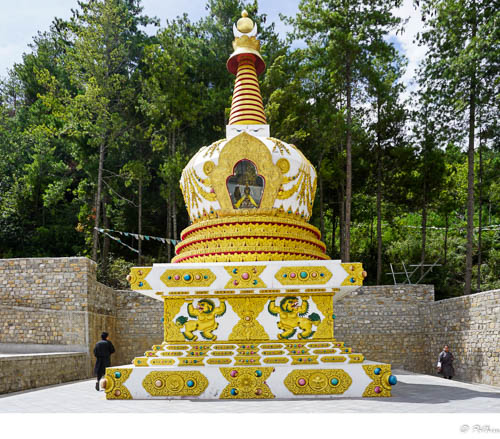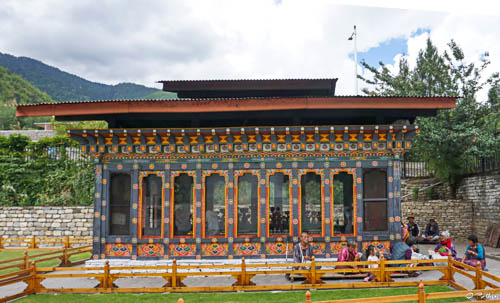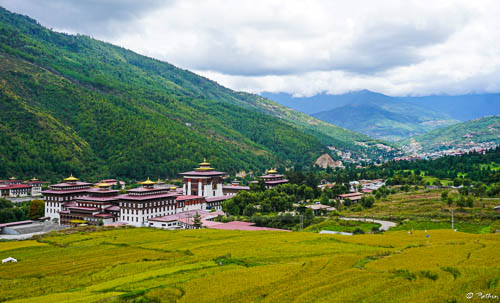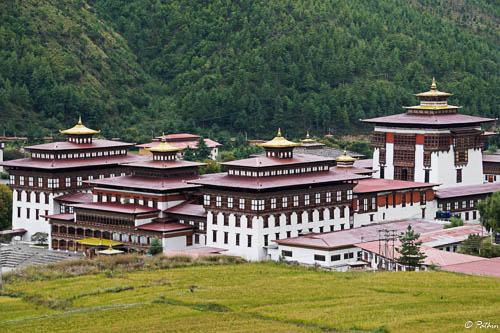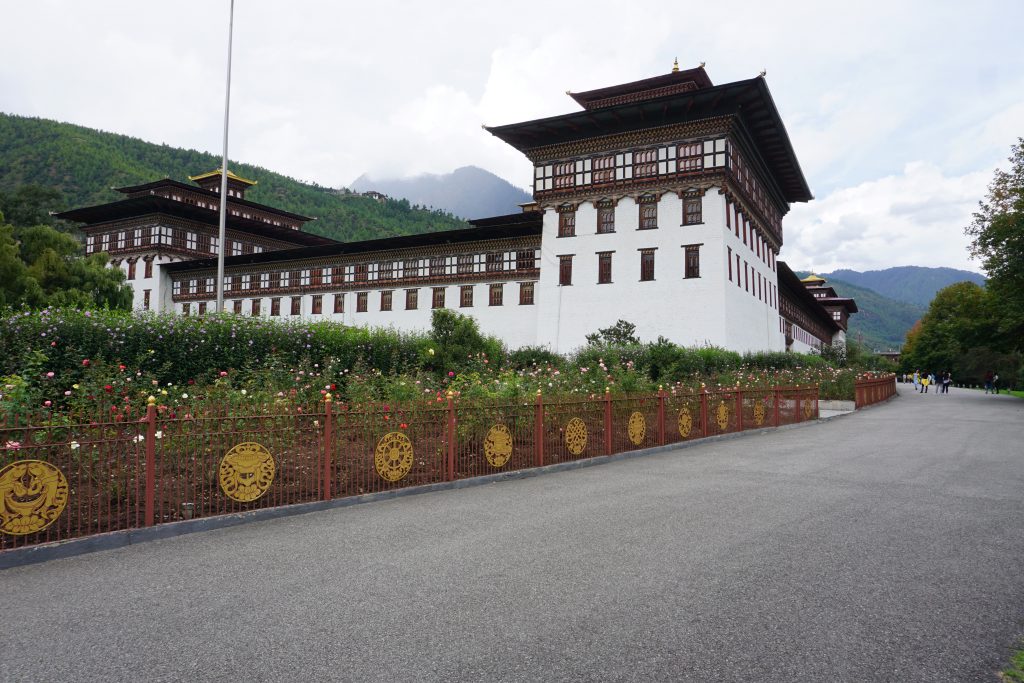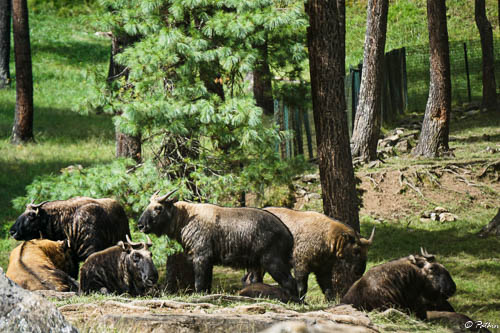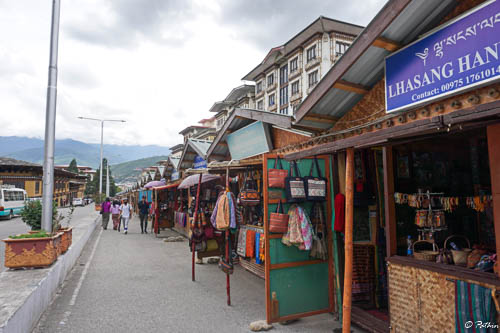 Across the road from the Immigration office in Thimphu is the Bhutanese Crafts Bazaar – widely touted as the best place to buy souvenirs. We visited the place with high hopes and were disappointed. Whatever was available were poorly made, did not look authentic and are probably imported from China. Far better to try the many shops lining the Nordzin Lam (main road of Thimphu) – the shops are a little pricey but the products are authentic.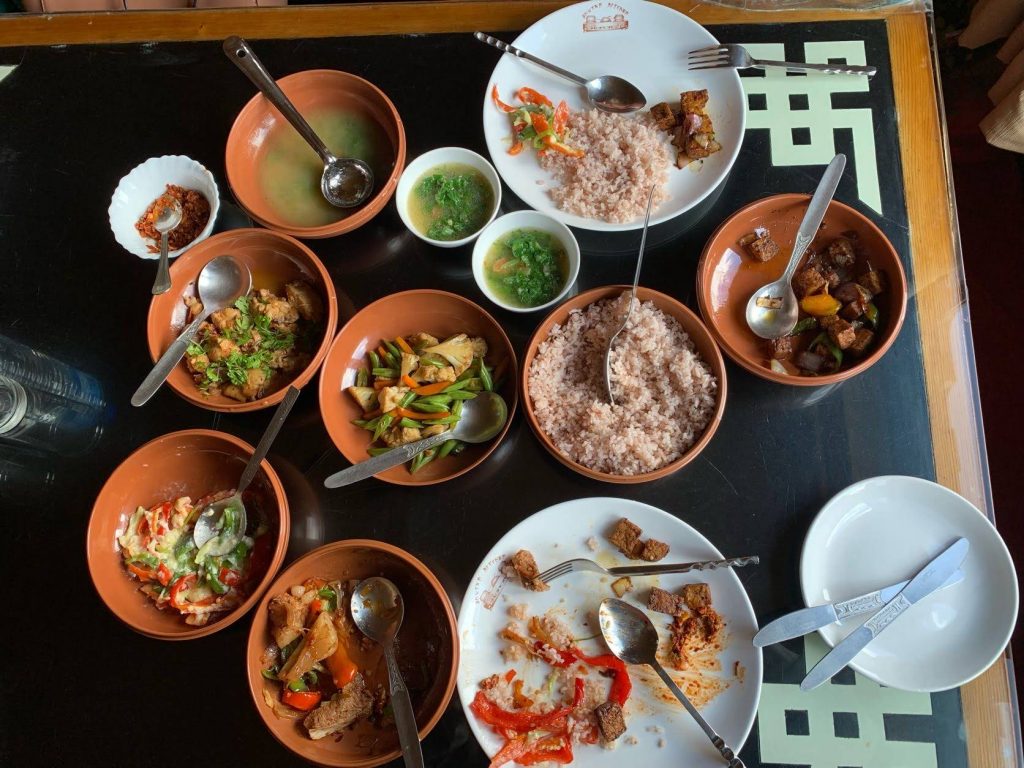 The Bhutan Kitchen restaurant near Clock Tower in Thimphu serves these fixed menu elaborate meals in a traditional style.
Our return journey was tame as compared to our onward journey. We started very early – 0630 Bhutanese time on a Sunday and flew through empty roads. Being so early in the day, the foggy stretches were also just waking up, so the road was completely clear. Reached Phuentsholing around 0930. Continued on towards Bhagalpur, our night halt. Due to Durga Puja celebrations a no. of traffic diversions were in place in North Bengal. Google Map once again failed to provide accurate information about the road closures and we had to take a no. of detours. Ultimately reached Bhagalpur at around 2030 IST covering 570 kms in about 14 hours.
The last day was the drive to home – a distance of 380 kms from Bhagalpur to Ranchi. The drive was mostly over wide highways, though, at places potholes did make an appearance.
Our journey ended at Ranchi on 7th October 2019 at 1630 IST.
Tashi Delek!