Munsiyari – a small village tucked away in the Pithoragarh district of Kumaon region in Uttarakhand is hardly more than a collection of 30-40 houses looking out to the splendour of Panchachuli peaks. Aside from its natural beauty and unpolluted environment, Munsiyari is popular since it serves as a base camp for a no. of treks like Milam glacier, Ralam glacier and Namik glacier.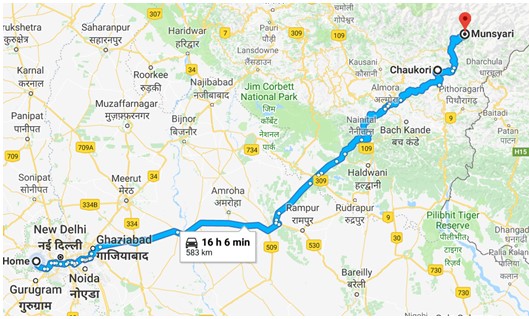 Munsiyari is about 580 kms from Delhi – a drive that is best to accomplish over 2 days. Possible first night stops can be either Almora or Chakori. Our route took us through Kathgodam-Almora-Chakouri-Thal-Munsiyari. Considering the remoteness of the area, the road to Munsiyari may not be in a good condition particularly at the beginning of spring when the snow has just melted.
A particularly treacherous stretch is from the Birthi Fall (the fall debauches on the road) to the Kalamuni top (at 9500 feet, usually iced over). There is a single Uttarakhand Road Tranport bus that connects Munsiyari, other than that your own vehicle is the only option.
Munsiyari, at a height of 7200 feet is literally the final frontier before one enters Tibet. It is located on the ancient salt route from Tibet and still retains its cultural ties across the borders.
The Panchachuli peaks (a group of 5 peaks ranging in height from 20,781 feet to 22,651 feet) are the dominating feature, encircling the valley and presenting a sheer wall of ice.
The name Panchachuli is derived from the story of the Pandavas's "Five Chulis" (cooking hearths) where they cooked their food before ascending to heaven.